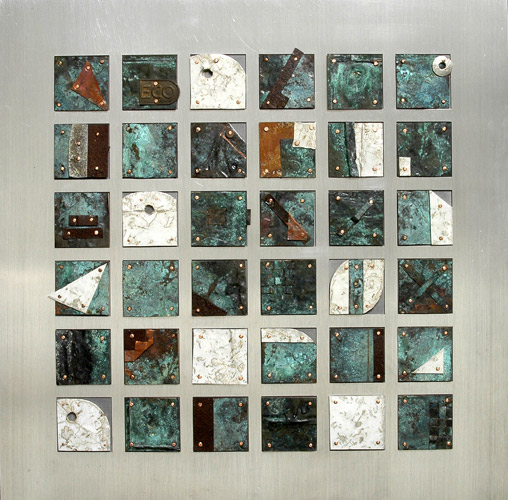 Between 2003 and 2008 I was a member of the Enamel, Textiles and Ceramics Research project at the University of the West of England. Every year each member made an edition of 50 badges.

The recycling theme in 2006 gave me the opportunity to use a treasured piece of patinated copper which I had found in a shed five years before. Since then I had periodically picked it up, turned it over, marvelled at its rich colour and wondered how I could use it.

Bob Ebendorf taught me to make copper rivets in his masterclass, a slow and painstaking process, but one that suited the material perfectly, the small bright circles of new copper punctuating the dark verdigris of the old.

The white pieces were cut from 4 aluminium labels attached to a buoy which was washed up after a storm. The rusty iron once secured a delivery of bricks. All of these pieces of metal were found in Pembrokeshire and the occasion of their finding is locked into each badge.

Found metal, plywood, copper rivets.
Each badge 4 x 4 cms.
Photographer: Elizabeth Turrell